Strategically packing a tactical bag: Do's and Don'ts
Do you have a camping vacation planned in the near future? If you answered yes, then keep reading this post because it will provide you with all of the necessary knowledge regarding tactical items that you should carry and those that you should avoid. Even if you don't, you could find this page useful for your own knowledge.
This article is a tactical tool guide that explains the importance of each vital equipment that you should carry in your tactical bag whether you're going camping, hunting, or travelling, as well as the things that you should avoid because they may just be a waste of space in your bag.
Strategic Survival offers you the greatest experience in terms of supplying you with all of the necessities for your outdoor camping and hiking vacation. They have a variety of tactical gadgets to help you on your way. Not just the tactical tools but they also offer food and storage essentials, first aid, portable power, home safety equipment, and archery equipment. You can rely on Strategic Survival's camping gear selection whether you need a durable, dependable backpack to carry all of your belongings such as sleeping bags, tents, or other outdoor equipment such as knives, tools, flasks, water bottles, or lights.
It may appear absurd to get worked up over a bag as a survivalist, but there are several reasons for this. A tactical bag can hold more resources than a regular bag. This is not to say that you should stuff your bag with useless items. However, if you ever need them, the extra food supplies and tactical tools will come in in. In a life-or-death crisis, a split second can mean the difference between life and death. A well-organized bag will allow you to quickly retrieve your belongings. Tactical packing allows you to appropriately spread the weight of your bag's contents. This eliminates back pain and allows you to travel further and faster.
The art of strategically packing your belongings is a type of art in and of itself. Many of us overfill and over pack our tactical bags to the brim, leaving no room for survival supplies, and we wind up with a bulky bag of useless items. If your tactical bag is heavy, it will burden you and slow down your pace and journey. This approach will assist you in remaining mindful while packing your belongings so that you do not carry unnecessary weight.
The tactical goods market is flooded with a variety of versatile tools and equipment. Some of these tools are more valuable than others, but in order to choose the best one, you must first answer some questions regarding your destination, days of stay, intention to hike or hunt, weather, and the total amount of people accompanying you.
Some essential items that you need to have in your tactical bag regardless of any situation include water bag, khizer knives, solar flashlights, portable chargers, and survival tools etc. These tools are essentials and you will require these wherever you go. Some other tools like waterproof camping tent, outdoor wok burner or outdoor cooking pit, camping shovel and camping axe are used for specific conditions and areas. What should be in your bag totally depends on your needs.
Building a fire is the most important chore whether you're camping with your family, exploring the woods, or trekking along a mountain trail. It's especially difficult when it's raining and chilly outside. A basic pack of matches or a lighter will not suffice in this situation. That is why a fire starter is required. You'll also need to chop wood, so bring a camping axe with you. A camping axe should be between 1.5 and 2.25 pounds in weight. If you haven't done so before, it's a good idea to get some practice in beforehand.
Many items in your tactical bag would be frequently used and would be essential especially for the nighttime such as bug repellant, fire starters, compass, hand crank radio, and waterproof matches etc. Many of the items on the list are one-time-use goods that you would only use once or twice. This list includes items such as the ones stated above, as well as camping shovels, axes, pirate telescopes, and vivitar telescopes. Unless you're going hunting or hiking in extreme conditions, you wouldn't utilize these products. As a result, it's critical that you pick your tactical tools carefully so that you have enough room in your kit to maintain the vital ones.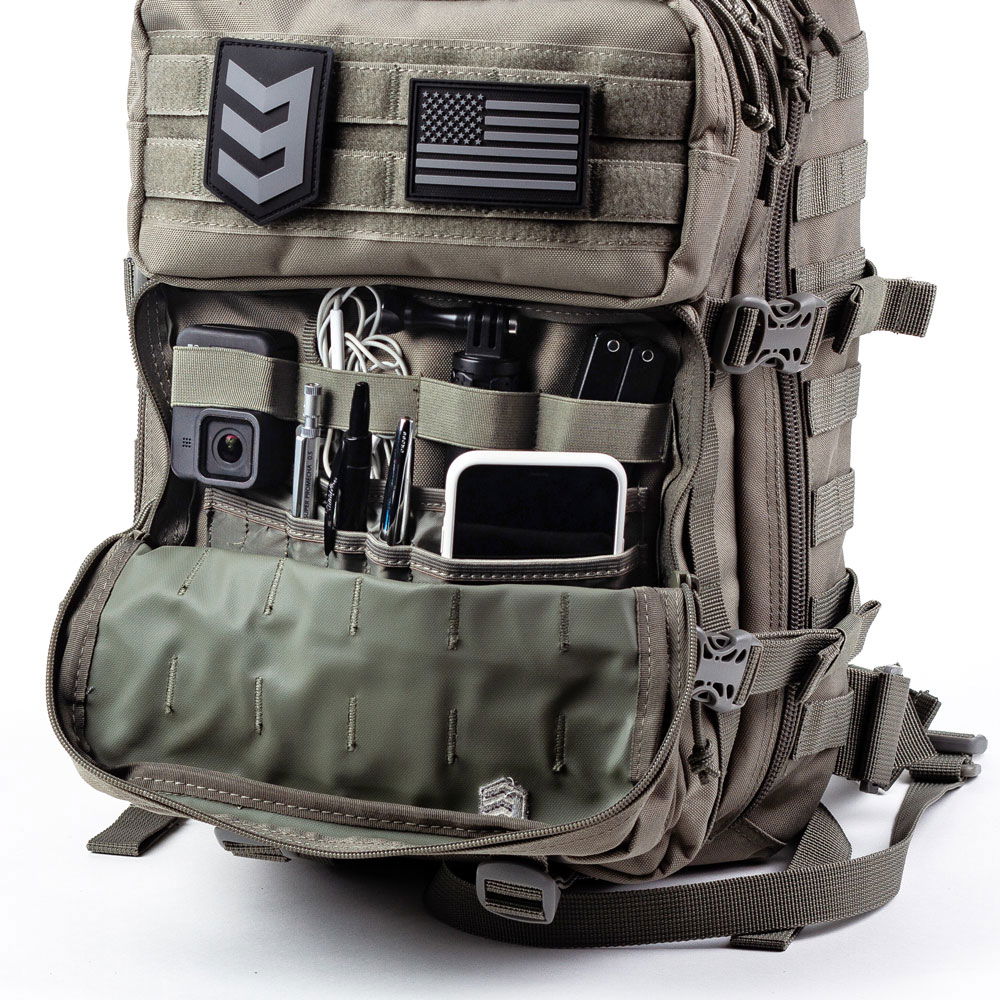 If you ask us a Kizer knife will be best. Kizer knives is a Chinese high-end sport knife manufacturer. Every knife is made by a master cutler perfecting every fit, edge, and sharpness. They are committed to high-end workmanship. And now we come to the final things, shelter and water. As for the shelter, get a sleeping bag, a tent, and a shovel. Whether you like sleeping under the stars, you should always have a tent or some other shelter with you just in case. A sudden rainstorm, snowstorm, or just heavy dew will leave you at a risk of hypothermia. Also take other necessary shelter accessories such as rope, tent poles, camping shovel, a rainfly, and stakes. Lastly, take essentials like toilet paper, a portable toilet, and clothes suitable for the weather of the area.
Strategic Survival provides you with the highest quality items and one of the most comprehensive product lines accessible on the internet. They offer shipping throughout North America. They provide a very simple return policy in addition to the nationwide shipping. If you are not completely pleased and in love with the goods, you can return it to us without any trouble and we will either refund your money or offer you another product based on your request. Finally, if you have any queries about the items or require instructions on how to use the tactical tools, please contact us via email or social media. We have answers to all of your questions as your go-to tactical accessories!